ARENSIA IS COMMITTED TO FIGHT COVID-19!
We are eager to bring in all our expertise and clinical research infrastructure to contribute to Phase I, II and III clinical research trials in COVID-19 patients, covering the full range of disease severity.
One of ARENSIA´s Phase I research units is located within the National Institute of Infectious Diseases "Prof. Dr. Matei Bals" in Bucharest, Romania. This Institute leads the response against COVID-19 in Romania. Daily, the institute is testing approx. 1.000 patients, with 200+ patients confirmed positive. At this moment 500 positive cases are hospitalized in the Institute, all centralized in just one campus. The Institute disposes of 740 in-patient beds, out of which 100 are equipped to serve severe cases (ventilation/intubation).
In such extraordinary circumstances, the study approval by the Romanian Health Authority and National Ethics Committee can be obtained as "fast track". ARENSIA provides full support for speedy preparations of submission package and adaptation/translation of patient related documents (7-10 days in total), aiming to ensure immediate start.
ARENSIA offers a unique combination of:
Mitigation state of COVID-19 outbreak in Romania, with peak estimated in 2-4 weeks from now (approx. 15,000 positively confirmed cases according to epidemiologists)
Centralized, state-of-the-art medical institution with top specialists and latest generation equipment to handle full range of COVID-19 severity
Highly experienced on-site ARENSIA clinical research infrastructure (medics, nurses, technicians, site coordinators), fully dedicated to the performance of the most complex clinical trial designs. ARENSIA team is on-site to take care of the entire study performance, complementing the hospital staff which is focused on the daily management of patient care.
This combination enables us to make a difference and help patients in this unparalleled battle, while helping our Sponsors to rapidly achieve Proof-of-Concept/obtain top quality data in the most efficient way!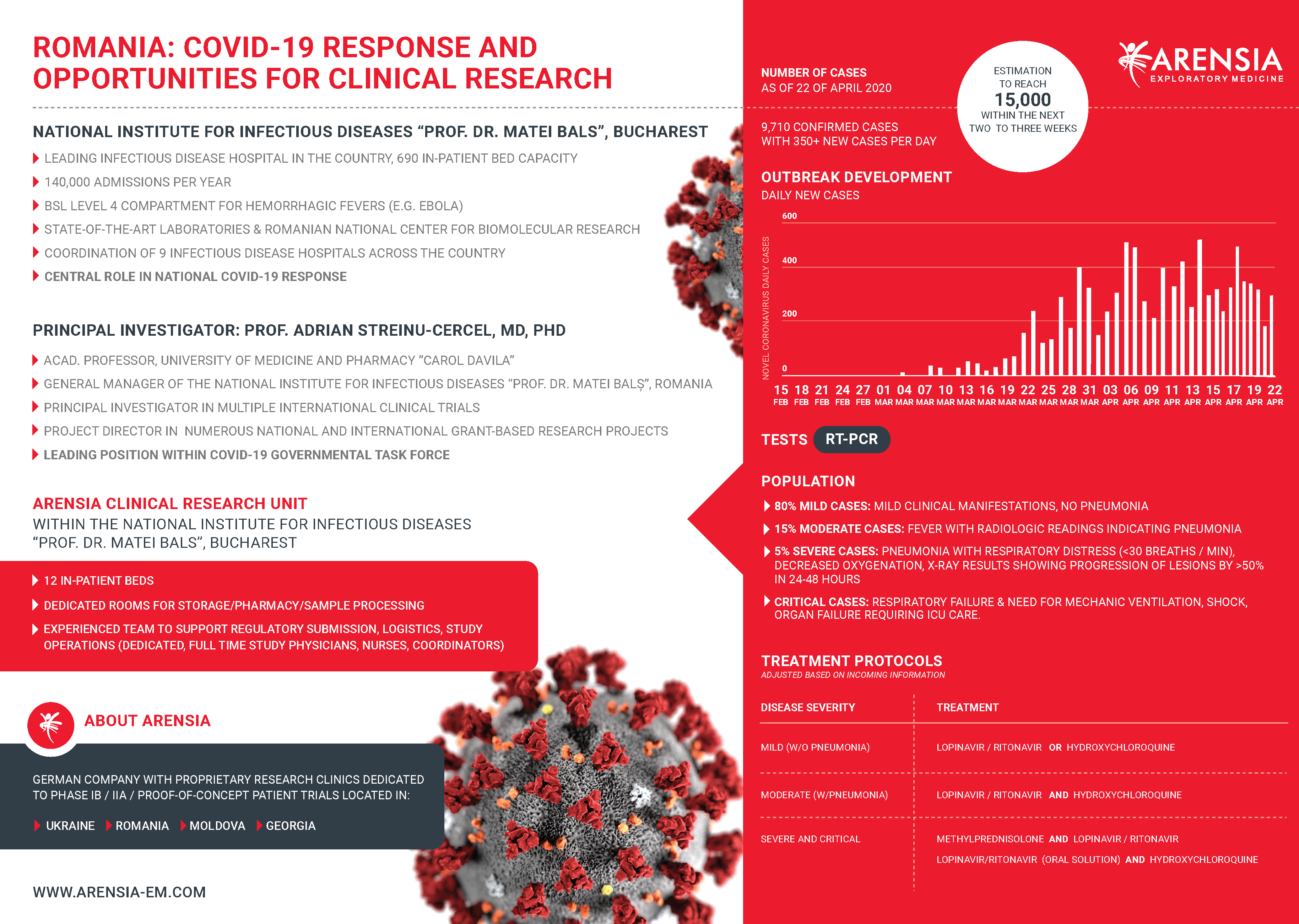 23.04.2020